Lewis Hamilton is still the richest sportsman in the UK but Manchester United striker Zlatan Ibrahimovic is a close second.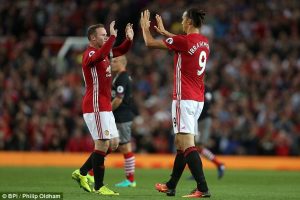 Ibrahimovic, United's 35-year-old Swedish striker, leapfrogged team-mate Wayne Rooney to become the richest footballer on the list.
Formula One's Jenson Button and golfer Rory McIlroy make up the top five with wealth of £86million and £82million respectively.
Football is the best-represented sport in the top 10, with five of the wealthiest sports people either players or managers.
Rooney (£93million, up £11million) is third, while Manchester United manager Jose Mourinho is in seventh place (£61million) and Manchester City boss Pep Guardiola equal ninth (£50million).
Wales and Real Madrid striker Gareth Bale has seen his wealth rise by £20million in the last year to a total of £54million, to place him eighth in the top 10.
Sir Andy Murray is now worth £77million, making him the sixth-richest sportsman.
Los Angeles Lakers basketball player Luol Deng completes the top 10 in joint ninth place with Guardiola (£50million).
The Sunday Times sport rich list 2017
1. Lewis Hamilton, motor racing, 2017 wealth £131m, up £25m
2. Zlatan Ibrahimovic, football, 2017 wealth £110m, new entry
3. Wayne Rooney, football, 2017 wealth £93m, up £11m
4. Jenson Button, motor racing, 2017 wealth £86m, up £9m
5. Rory McIlroy, golf, 2017 wealth £82m, up £26m
6. Sir Andy Murray, tennis, 2017 wealth £77m, up £20m
7. Jose Mourinho, football, 2017 wealth £61m, up £11m
8. Gareth Bale, football, 2017 wealth £54m, up £20m
9= Luol Deng, basketball, 2017 wealth £50m, up £7m
9= Pep Guardiola, football, 2017 wealth £50m, new entry