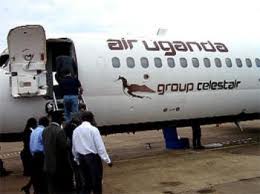 Air Uganda has indefinitely suspended its operations.
This comes a month after its Air Operator's Certificate was withdrawn by the Civil Aviation Authority over non-compliance with aviation safety standards.
In a statement issued this evening, Air Uganda Chief Executive Officer Cornwell Muleya regrets the development saying the airline has inevitably suffered great damage.
He says that one of the conditions of the AOC withdrawal was that the affected carriers submit fresh applications but in the meantime cease operations, thus leading to massive financial losses and reputational damage.
The covenants in the aircraft lease agreements require that the aircraft can only remain on lease to AIR Uganda as long as the airline continues flying.
Air Uganda was started in 2007 at the request of the government of Uganda and has been operating from Entebbe as its home base to Nairobi, Dar-es Salaam, Bujumbura, Kigali, Mogadishu, Kilimanjaro and Juba.