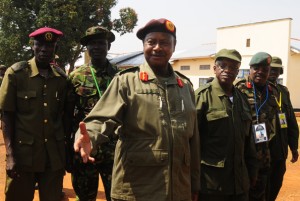 The President has reaffirmed government's neutrality on matters concerning cultural institutions in Uganda.
This follows the recent attacks in Rwenzori region that have been blamed on tribal friction.
The president was speaking while receiving opposition members who have crossed to the National Resistance Movement in Kasese district.
He stressed that government does not tolerate any form of sectarianism and urged all Ugandans in Rwenzori region to respect each other and live in harmony irrespective of their ethnicity.
The clashes that left over 90 people dead are still being investigated with over 200 suspects being tied before the General Court Martial.