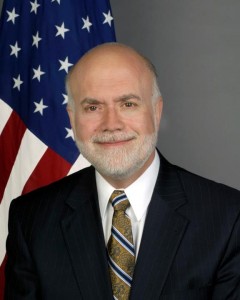 A conducive environment is all that is needed for coffee production to grow.
This is the view of the US Ambassador to Uganda Scott Delisi.
Speaking at the opening of a coffee conference, Delisi has said that without an enabling environment for the farmers, agricultural production will continue to dwindle yet the sector is the biggest employer and contributor to the country's GDP.
He is also challenging government to help the local business community get links to the US market especially for the coffee.
He adds that the US government is ready to support coffee producers through funding but quickly adds that such help can only yield fruit if coupled with government's willingness to support the sector.
Speaking at the same function, the Prime Minister Amama Mbabazi has also underscored the need for government to support scientists to develop new varieties to boost coffee production.
He says this will help reduce poverty levels among rural farmers, challenging the farmers to form associations to produce in large quantities for easy marketing of their coffee.
The 10th African Fine Coffee conference opened this morning at Speke Resort Munyonoyo.