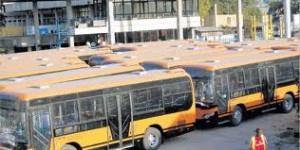 The grounding of Pioneer Easy buses is likely to affect city transport, with city dwellers already seen stranded at the various bus stops.
This is after the Uganda Revenue Authority impounded all Pioneer Easy Company buses over taxes.
The company is said to owe the tax body over Shillings 8 billion in unpaid taxes.
All the buses are now parked at their different stages of Manyangwa along Gayaza Road, Nambole and Bugolobi.
The Operation is headed by Wasswa Abdusalam the head of marketing and debt collection.
Wasswa says they bus company has been given two days to clear the debt or risk having the buses auctioned.
Meanwhile John Masanda, the Managing Director of Pioneer Easy Bus Company has blamed their failure to pay the taxes on KCCA' reluctance to streamline their operations.
He cites the lack of special lanes for the buses and the traffic congestion which has greatly affected their routings.
Masanda explains that they are only able to make 7 instead of the expected 10 routes per day.
He says they are still negotiating with both URA and KCCA to have the issue resolved as soon as possible.