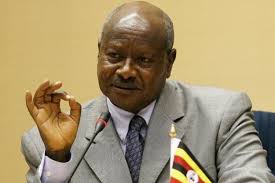 President Yoweri Museveni has warned contractors against carrying out shoddy work on major government projects.
Speaking at the commissioning of the construction works for the new Jinja Nile Bridge, the president has also warned against theft of construction materials.
Also in attendance were ministers Daudi Migereko and Rukia Nakadama for Lands and Culture respectively, several cultural and religious leaders as well as district officials.
Construction works was meant to start early last year but was pushed forward for various reasons.
The project is being funded by the Japanese government to the tune of Sh.120bn.
The construction comes at a time when the old bridge is showing signs of wear due to the increased traffic from Kenya into Uganda, Rwanda, DR Congo and Burundi.