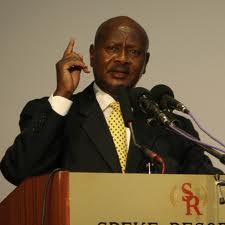 President Yoweri Museveni has emphasized the need for East African Community member countries to reduce the cost of transport and electricity.
The president was this afternoon addressing the Northern Corridor summit held at Speke Resort Munyonyo.
The three presidents of Uganda, Rwanda and South Sudan also launched the Standard Gauge Railway construction.
Presidents Paul Kagame and Salva Kiir are also expected to grace Uganda's 52nd independence anniversary celebrations at Kololo tomorrow.
The Northern Corridor is the transport corridor linking the landlocked countries of Uganda, Rwanda, South Sudan and Burundi to Kenya's Maritime Port of Mombasa.
Earlier while speaking at the National Prayer Breakfast, President Museveni asked religious to take the lead in the fight against disease outbreaks.
This comes as the country battles several outbreaks including Marburg fever and Hepatitis B.
He asked religious leaders in communities where game meat is a delicacy to discourage the practice.
The president who refused to shake hands with anyone at the meeting also warned Ugandans against unnecessary hugging and touching to minimize the spread of the Marburg virus which has so far claimed one life.
In Kasese district, a number of patients in Kagando hospital have escaped while others are asking for early discharge following an outbreak of Marburg in the country.
The acting medical superintendent Dr. Asanairi Baluku says two suspected cases are still in isolation for the next three days before tests can be carried out.
This comes a day after the results from the Uganda Virus Research Institute indicated that 11 samples taken from different parts of the country had so far tested negative for the virus that causes hemorrhagic fever.
Earlier in the day, the health ministry's efforts to fight Marburg received a boost from UNICEF to step up the sensitization campaign.
This will run a countrywide media campaigns to sensitize the masses on the dangers and precautionary measures to take.
The organization has already deployed a team of experts from the WHO Regional Office to support national and district response.