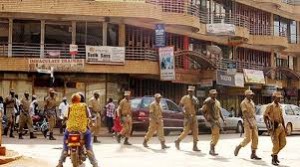 The current terror threats have not spared the local traders.
Those operating in city arcades are now asking for police intervention to ensure their safety.
This comes following a heinous attack on at the Westgate mall in neighboring Kenya which left 61 people dead and over 200 injured.
The latest attack has sent a wave of panic throughout the region and beyond.
Now the city tenants under the Uganda Tenants and Squatters' Association are asking government to re enforce security at all shaping malls and other public places.
Mohammad Katanyooleka, the association chairman says many arcades lack adequate security and making them easy targets for terrorists.
He explained that even though it's the responsibility of arcade owners to ensure security, at such critical moments, the police must intervene.