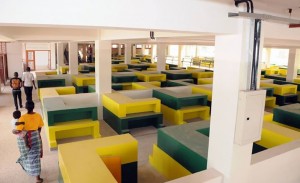 Vendors operating at the recently constructed Wandegeya Market are crying foul over low sales.
They put the blame on Kampala Capital City Authority (KCCA) for not giving the market enough publicity.
They are now asking for a reduction of rent dues that were dismissed by KCCA leaders who argue the rates are fair compared to other market charges.
The Sh. 22bn market was ready in October but a row over the rates and other terms of their tenancy agreement with KCCA had kept the traders from moving to the new market.
The tenancy agreement grants each of the registered traders a 10 year renewable lease to operate in the market; the traders are paying between sh40, 000 and sh250, 000.