La La Land may have lost the best picture Oscar to Moonlight, but Damien Chazelle's love letter to Los Angeles isn't done dancing away with notable honors.
Los Angeles' mayor has now proclaimed (April 25) is La La Land day, as acrobats suspended by ropes danced their way across the outside walls of City Hall.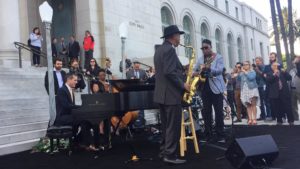 Mayor Eric Garcetti proclaimed the honor for the musical that claimed six Academy Awards in February and put a spotlight on various locales throughout the city with elaborate song-and-dance numbers. Garcetti played the piano while a band played a medley of songs from the film, including "City of Stars."
The film received a record-tying 14 Oscar nominations and was briefly announced as the best picture winner before the actual winner, Moonlight, was correctly announced.