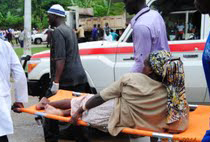 An outbreak of Cholera has been reported in Kasese district.
This comes at a time when the country is still struggling to contain a typhoid epidemic.
The Cholera outbreak has been confirmed by the Kasese distsict Health Inspector Steven Bagonza saying 10 cases have so far been registered at Bwera Hospital.
Bagonza says the most affected are women and children in Nyabugando village.
Bagonza attributes the latest outbreak to poor sanitation in the most of the affected areas.
However, the ministry of health head of surveillance Dr. Monica Musenero says they are yet to receive communication regarding the outbreak but are ready to respond once contacted.
Story by Dianah Wanyana