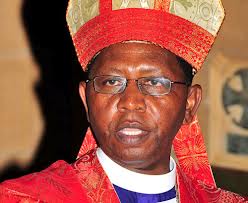 The Archbishop of the Church of Uganda His Grace Stanley Ntagali is calling for urgency in passing electoral reforms.
In his Easter message to believers, Ntagali said that the reforms are needed for free and fair elections, asking parliament to expeditiously handle the process and have the reforms passed.
He also urged candidates vying for different positions to follow democratic means of vote hunting to avoid bloodshed during the forthcoming general elections.
Among the major electoral reforms pushed for by opposition members and civil society, is the establishment of an independent Electoral Commission and ensuring a clean voters register among others.
On Wednesday the electoral commission released the road map to the 2016 general elections showing that campaigns will kick off in November.
The Archbishop has assured Ugandans that the church's mega investment project will be not later that year.
The 25 billion Church House Project on Kampala Road was started in January 2011 with an initial timeline of 18 to 24 months but has been delayed due to unexpected interruptions.
Now according to Ntagali, almost 90% of construction works is done with the remaining part being outer finishing.
He explains that out of several visits he has been making, he has been able to sale shares worth 320 to Ugandans and churches.
Story by Moses Ndhaye