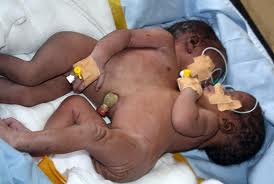 A set of conjoined twins has been admitted at Mulago Hospital.
The girls were born at Ngora Hospital in Soroti on 3rd May.
According to the team of Doctors, the twins are conjoined at the abdomen.
Unfortunately the mother of the twins did not make it through the caesarian birth.
The kids that weigh 4.46Kgs are now taken care of by their father Mesial Okirol.
Mulago spokesperson Enoch Kusaasira says the doctors are still examining the twins for a comprehensive report on which body parts are shared.
Conjoined twins are a rare phenomenon that is estimated to range from 1 in 50,000 births to 1 in 200,000 births, with a somewhat higher incidence in Southwest Asia and Africa.