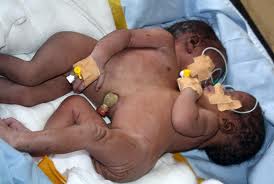 Doctors say the conjoined twins admitted at Mulago Hospital are in stable condition.
Tests conducted on the 2 babies indicate that each of them has her own heart though they are in one sack.
They also don't share the spine, according to tests by a team of doctors led by Dr. Jamiru Mugaru.
The twins however still weigh 4.46 Kilograms but must gain up to 10 Kilograms before any operation can be undertaken to separate them.
These twins were born on 4th of May this year at Ngora hospital and their mother Faith Okiri died during delivery.
The doctors say more tests are being undertaken to establish what other organs the children might share.