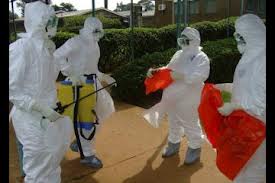 The ministry of health has intensified screening of people travelling from the DR Congo in a bid to prevent the spread of the deadly Ebola virus.
The Commissioner Community Health Dr. Anthony Mbonye says they have also tasked all hospitals near the Uganda- Congo boarder to report any suspected cases of Ebola fever for immediate intervention.
Mbonye says they have an emergency response plan in case of a distress call.
The Zaire strain of Ebola virus has a mortality rate of 88 percent, which is higher than the Sudan strain.
Once a patient is infected with Ebola, the incubation period is 4 to 16 days.
The onset of disease is sudden, with fever, chills, headache, anorexia, and muscle pain.
As the disease progresses, nausea, vomiting, sore throat, stomach pain, and diarrhea manifest.