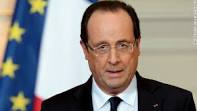 The French Government says Uganda should  uphold its international commitments regarding the protection of human rights.
This comes two days after President Yoweri Museveni signed the anti-homosexuality law that criminalizes same sex relations in Uganda.
In a statement released by the French Embassy, the French Foreign Ministry's spokesperson, Mr. Romain Nadal has asked Uganda to respect the international Human rights laws which she ratified.
He says France will continue supporting the civil society initiatives aimed at combating all types of discrimination based on sexual orientation and gender identity.
France now joins Japan, the US, Norway and a host of other nations that have been angered by the law.
On Tuesday Norway announced aid cuts to Uganda to the tune of Shs.20 Billion