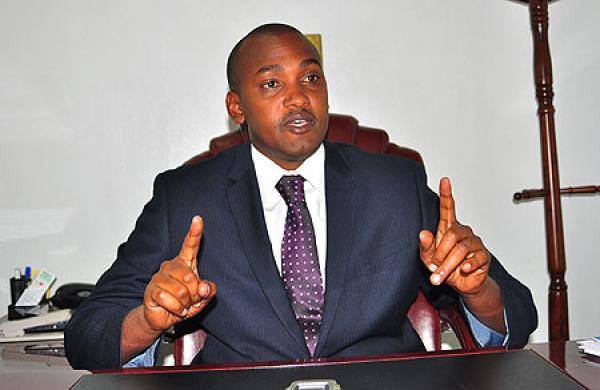 The minister for Kampala has spoken out on the death of a toddler that was run over by a vehicle belonging to Kampala Capital City Authority.
In a statement posted on his facebook page, Frank Tumwebaze says it is with sadness that he has learnt of the tragic news and has directed the police chief to fully investigate the matter with a view of apprehending anyone who could have acted negligently.
Tumwebaze has also promised to have strong action taken on whoever could have acted negligently depending on the police findings.
The mother of the child identified as Madina Namutebi, a resident of Masajja had been arrested for street vending contrary to the law and was later taken to City Hall Court.
"Two relatives of the detained lady came with her baby to see her at the court where it was run over accidentally as the driver reversed" reads the statement in part.
Tuwebaze says KCCA acted swiftly and rushed the child to Mulago hospital but unfortunately it passed away due to the injuries.
Meanwhile, Kampala Capital City Authority has been challenged to take responsibility for the death of the toddler who was run over by a car yesterday.
The Executive Director of the Anti-Corruption Coalition in Uganda Cissy Kagaba says it was an act of negligence on the part of the authority.
The two-year-old child was crashed yesterday at KCCA court premises after the mother was arrested for hawking.
She reportedly begged to be given her child, but was denied and the child wandered off and went under the car.
Child rights body ANNPCAN has also added a voice of condemnation about the incident.
The Networks Program Officer Marlon Agaba has described it as an unfortunate event.
He says that apart from helping with the burial arrangements KCCA should also compensate the mother.
He says mothers in detention have the rights to breastfeed their children, and in this particular the safety and rights of the child should have been considered
For the city Lord Mayor Erias Lukwago, KCCA officials must be investigated.
Lukwago says Kampala Capital City Authority should revise its mode of operation and avoid the use of brute force.
"The death of the toddler who was run over by a KCCA official should be an eye opener to the President and the country at large that there is need for reflection on the methods being used by KCCA, which is propagating the notion that transforming the city needs stern action and brutality" Lukwago told KFM.
The woman has since been released and KCCA has made a contribution to facilitate the burial of the child.