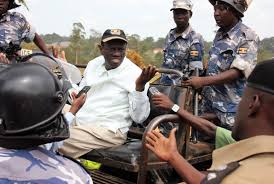 Eight members of the For God and my Country pressure group been charged in court.
The group has been charged with 8 counts of managing an unlawful society.
Led by former FDC leader Dr Kiiza Besigye, they have appeared before Buganda Road Court Chief Magistrate Olive Kazarwe who granted them a non cash bail of Sh.1m each.
Some of the others are MP Mathias Mpuuga, FDC's Ingrid Turinawe, Justice Forum president Asuman Basalirwa and Kyapa Karuhanga.
Their sureties including MPs Gerald Karuhanga and Odo Tayebwa have been asked to sign court bonds worth Sh.2m each.
The members of opposition political pressure group For God and my Country were summoned earlier on allegations of organizing unlawful assemblies and taking part in the infamous walk-to work protests.
Prosecution alleges that between April 20th 2012 and January 2013 while in different parts of the country, they took part in activities of the outlawed 4GC.
The case has been adjourned till September 17th for mention.
Police deployment outside the court room was heavy.