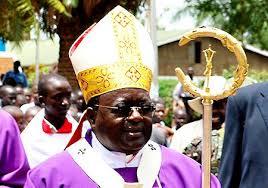 The archbishop of Kampala archdiocese Cypian Kizito Lwanga has condemned Kampala Capital city Authority's night demolitions.
The archbishop sighted the recent KCCA operation of demolishing houses near the railway line saying the move was not called for.
He says the squatters would have been given more time to relocate.
On the issue of homosexuality the archbishop said such acts should not be accepted in our society because they are against God's laws.
He made the remarks while adorning 22 new fathers whom he challenged to live exemplary lives.