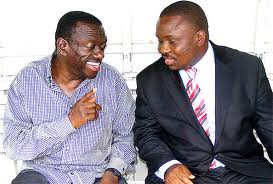 Opposition leaders are still under preventive arrest in Rukungiri district.
The police have surrounded the home of former Forum for Democratic Change leader Dr. Kiza Besigye in Rukungiri.
This is where Dr. Besigye, city lord mayor Elias Lukwago and other opposition leaders are being held under preventive arrest.
Lukwago tells KFM that they had attended the national independence celebrations at Rukungiri Stadium but felt disappointed by some of the speeches and decided to walk away.
The group was however immediately intercepted by the police outside the stadium.
Earlier, the police chief Gen. Kale Kaihura said they had received intelligence information that the opposition was planning parallel events to antagonize the independence celebrations in Rukungiri.
The opposition leaders were attending the national function for the first time in many years.