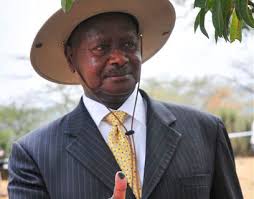 The teachers' salaries will be raised at the right time.
President Yoweri Museveni has said the government has not failed to raise the funds needed to effect the 20% salary increment but it is focusing on priority sectors like infrastructure.
He was speaking during the 51st independence anniversary celebrations at Rukungiri stadium in the Western district of Rukungiri.
He has asked the teachers to be patient as government explores other avenues of raising the required funds.
Meanwhile, the chief guest, Mozambican president Armando Guebuza has lauded his host and counterpart for nurturing the cordial relationship between the two countries.
President Amarndo Guebuza received the Most Excellent Award, the highest award to heads of state. He was decorated by President Museveni Guebuza.
The chairman of the presidential awards committee, Gen. Elly Tumwine said Guebuza was instrumental in the fight against former colonial masters, Portugal, which later led to the independence of Mozambique in 1975.
The 50thIndependence Award medals were also handed to former mayors of Kampala who served from 1962.
Also awarded were religious leaders like Bishop John Baptist Odama, Cyprian Kizito Lwanga, and Supreme Mufti Zubair Kayongo among others.
Chancellors and Vice Chancellors as well as other academicians have also been awarded medals.
Some of those recognized include Prof. Mondo Kagonyera, Prof Laurence Mukiibi, Prof Mahmoud Mamdan, Yash Tandom, and Venacias Baryamureba among others.
In a Jinja the Independence celebrations have been postponed.