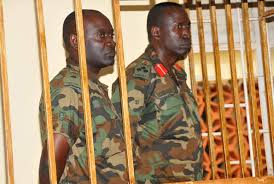 Former commander of the Ugandan contingent in Somalia, Brig Michael Ondoga may have to wait a little longer to secure his temporary release. This is after the general Court Martial pushed the ruling on his bail application to January 29th.
The Court Martial Chairman Brig Moses Ddiba Ssentongo pushed the ruling forward after the prosecution led by Capt Fredrik Angwamu objected to the bail application saying the suspect was likely to interfere with investigations and witnesses.
He also told court that the 3 sureties did not present proper identification and that the accused is likely to jump bail because does not have a permanent residence within the jurisdiction of court.
The Judge Advocate Maj. Raphael Mugisha thus advised court to adjourn the case to allow court study the submissions for both prosecution and defence. Ondoga is accused of theft and failing to perform his duties in connection with the operations at Amisom.