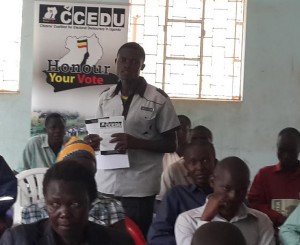 A team of observers is heading to Manafwa district for the Bubuulo West parliamentary by-election due tomorrow.
The Electoral Commission has accredited 43 observers from the Citizens Coalition for Electoral Democracy in Uganda to observe the environment both during and after the election.
The coalition's program coordinator Crispy Kaheru has emphasized the need for mapping of authentic polling stations.
Bubulo West has a total of 66,000 voters spread out in its 145 polling stations.
The parliamentary seat fell vacant after Tony Nsubuga Kipoi was expelled for missing more than fifteen consecutive sittings without the speaker's approval.