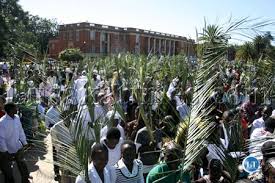 Christians all over the world are today celebrating Palm Sunday as they also mark the start of the holy week.
Palm Sunday marks the day when Jesus entered Jerusalem before he was crucified on Good Friday.
In Uganda, the day has been marked with a call on believers to share in the suffering of Jesus Christ.
According to the spokesperson of Kampala Arch-Diocese Mgr. Wynand Katende, the palms signify victory by Jesus Christ over sin.
He says Christians should visit different churches to ask God to prepare them for the holy week.
He adds that Palm Sunday should prepare Christians to share with Jesus the paid he suffered when he was crucified at Calvary