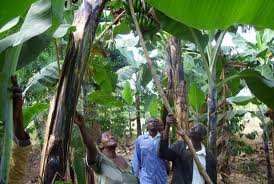 Government is considering dissolving the National Agriculture Advisory Services.
This has been revealed by President Yoweri Museveni, who says the NAADS program has not lived to its expectations.
Meeting a delegation of leaders from Busoga sub region, the president said that the funds will instead be directed towards strengthening SACCOs to provide affordable working capital to the grass root people.
The delegation led by the Chairman Moses Mugoya had yesterday visited president Museveni at his country home in Rwakitura, Kiruhura District.
He urged the leaders to promote attitude change to enable the people to engage in projects that generate incomes and create wealth.
NAADS is a government programme put in place by the NAADS Act (2001) with the overall development objective of supporting the transformation of agriculture from subsistence to commercial farming.
The President also assured the delegates that salaries of public officials are to be increased as soon as priorities such as infrastructure have been addressed.
He pledged to provide more funds to the SACCOs to enable Bodaboda operators to borrow and finance the purchase of motor cycles.