All security agencies are to be used to secure tonight's football match between the Cranes and Burkina Faso at Namboole stadium.
According to the Kampala Metropolitan police spokesperson, Patrick Onyango, field force units, general duty police officers and counter terrorism police personnel will all be deployed.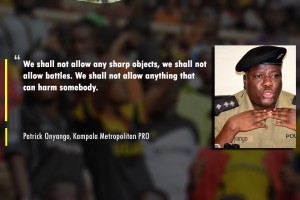 He warns all supporters to refrain from carrying dangerous objects like knives, sticks, bottles and big hand bags.
The Cranes face off with Burkina Faso in the second leg of the 2017 AFCON qualifier.
However Burkina Faso Coach, Paul Duarte expects tough game against the Uganda Cranes.
The Stallions coach says he expects a good game but thinks his team is the best.
Duarte is however wary of the huge crowd expected today to rally behind the hosts after watching a couple of games with the cranes getting a lot of support.