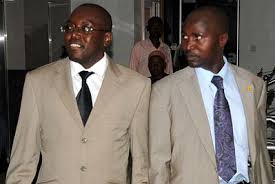 It's decision time.
Court is today set to decide on whether or not the four expelled NRM MP should stay in parliament.
The Constitutional Court will today rule on a case against the four MPs filed by the ruling party seeking to throw them out of parliament.
In the petition signed by NRM Chairman, Yoweri Museveni and Secretary General Amama Mbabazi, the party is challenging the Speaker's decision to retain the expelled legislators in the house.
They argue that sitting in parliament after being expelled by the party that sponsored them contravenes the constitution.
They now want court to declare their seats vacant and fresh elections conducted in their respective constituencies.
The four MPs are Theodore Sekikubo for Lwemiyaga, Wilfred Niwagaba for Ndorwa East, Kampala Central's Mohammed Nsereko and Barnabas Tinkasimire for Buyaga County.
The case is before five justices of the Constitutional Court led by the acting deputy chief justice Steven Kavuma.