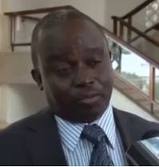 Drama has ensued in the parliamentary legal committee after attorney General Peter Nyombi declined to continue proceedings unless MP Wilfred Niwagaba leaves the committee.
Nyombi says Niwagaba is illegally on the committee as he was one of the 4 MPs told to temporarily leave parliament as their case with their party the NRM proceeds.
Hon Niwagaba is one of the four troubled MPs who were affected by a recent court order requiring them to be thrown out of the house after they were expelled from the NRM party.
Committee chairperson Stephen Tashobya was forced to halt the meeting to consult with the Speaker but on return both Nyombi and Niwagaba had left.
Nyombi had appeared to respond to the Sh.11billion claim by former Coffee Marketing Board employees as terminal benefits which are yet to be paid.