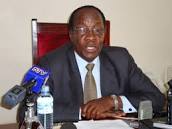 The Electoral Commission has tasked Parliament to place electoral reforms as one of the key issues for debate when the House resumes business next month.
The opposition and civil society last year came up with a compact document, outlining reforms ahead of the 2016 elections, including reconstitution of the Electoral Commission.
The commission's chairperson, Dr. Badru Kiggundu says with the commission's election road map already on course, it is important that changes to electoral laws are made early to avoid confusion before the elections.