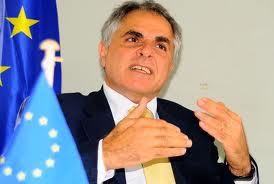 The EU envoy has backed Odoki's re-appointment.
Even though former Chief Justice Benjamin Odoki's reappointment has received backlash from some quarters, other sections have backed his reinstatement.
The European Union Ambassador, Roberto Ridolfi says the President has a prerogative to appoint individuals into positions which he feels are vacant and deserve well experienced persons to serve in.
Speaking at a media discourse with Uganda Parliamentary Press Association this morning, Ridolfi further called on government to enhance the salaries of top judicial officers, especially the Chief Justice, whose salary remains meager compared to other civil servants.
The reappointment of Odoki has drawn criticism from Parliament and the Uganda Law Society, who have threatened to challenge the decision in the Courts of law, citing disregard of the Constitution, which provides for a 70 year retirement age for the Chief Justice.