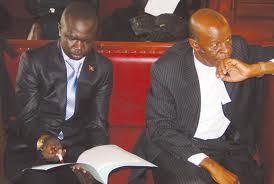 The jailed former Arua Municipality Member of Parliament Hussein Akbar Godi has questioned the delivery of justice in the murder case against him.
In a letter dated 4th June 2013, Godi has written to the registrar of the Court of Appeal asking why a ruling has not been delivered on his appeal for six months now.
In his letter, he wonders whether the death of one of the judges, Justice Constant Byamugisha who led the panel while hearing his appeal had contributed to the delay in the delivery of judgment.
Godi's appeal was heard on 20th November 2012 but to date the judgment has not been delivered.
Other judges on the panel were Justice Steven Kavuma and Justice Remmy Kasule.
Godi was found guilty of murdering his wife Rehema Ceasar by the High Court in Mukono and was handed a 25 year jail term in February 2011.
Godi was dissatisfied with the sentence prompting his appeal against the same.