A day after 9 people perished in another Masaka Road accident, government is asked to review its policies on the transport sector to curb the increasing road carnage in Uganda.
According to the executive director Uganda Consumers' Protection Association Samuel Watasa, police must take a step further to investigate the cause of these accidents instead of using the usual blanket explanation of reckless driving, over speeding and overloading.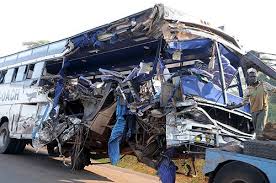 Watasa says the process of ascertaining the mechanical condition of vehicles must not be focusing on revenue at the expense of the lives of road users.
He also asked that government investigates further the process of assembling buses in Uganda which he says is still lacking, with no set guidelines.
Story By Samuel Ssebuliba