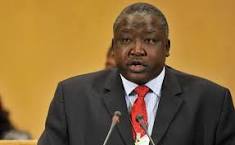 The ministry of Foreign Affairs is to follow up on reports that an NRM legislator was assaulted last week by a high ranking Namibian government official.
The minister of state for Foreign Affairs Henry Okello Oryem (Pictured above) says he had not been notified of any such incident. He however says he is to contact the Clerk to parliament to get the necessary information and follow up the matter.
"If what is reported is true, then it's a very unfortunate occurrence for which we shall be asking the Foreign Affairs Ministry of Namibia to give us an explanation as to why such a thing took place when our Members of parliament visited their country. We will definitely follow it up," Oryem told KFM on phone.
Namibia media reports indicate that on Tuesday last week, Namibia's special advisor to the minister of information and Communication Technology Mvula Ya Nangolo hit a Ugandan NRM legislator on the head with a cane and hurled insults at the 15 member Ugandan delegation calling them prostitutes.
The group reportedly travelled to Namibia to draw lessons from the country as it prepares for its sixth national elections in November this year.
There are fears that the incident could spark a diplomatic row between the two countries.