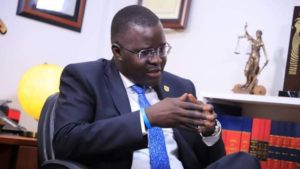 Mr Nicholas Opiyo, a human rights lawyer based in Kampala has been arrested by plain cloth security men, his team confirms.
He represents the Non-Government Organisations (NGOs) whose accounts were blocked by security last week on accusations of supporting terrorism in Uganda.
Opio was arrested from Lamaro restaurant in Kamokya, by security but police are yet to comment about his arrest.
Speaking to KFM, the Executive Director of Centre for Constitutional Governance Sarah Bireete said that the fraternity of Civil Society Organizations is currently heading to the police headquarters to find out about Opio's arrest.
Opio was the lawyer representing the two non-profit organizations NGO Forum and Uganda Women's Network whose accounts were frozen.