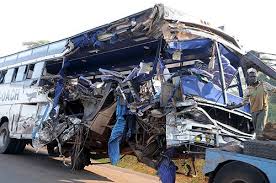 The death toll from the Juba accident has risen to 35.
The accident that occurred at Nistu 35 kilometers from Juba town involved a bus belonging to Bakulu coaches registration number UAS, 073P that collided with trailer registration Number UAD 300E.
The truck was moving from South Sudan to Kampala, while Bakulu bus was heading to the South Sudan capital Juba.
Aswa region Police spokesperson, Jimmy Patrick Okema, confirmed the incident, adding that the injured are receiving treatment at Juba hospital and the cause of the accident is still being investigated.
"The dead include some Kenyans, South Sudanese but the biggest number are Ugandans", adds Okema.
In July this year, another accident that occurred along Atiak Nimule highway involving a Bakulu bus left 16 passengers critically injured.
Early this month, several passengers were injured when the bus they were travelling in overturned along Gulu-Atiak road.