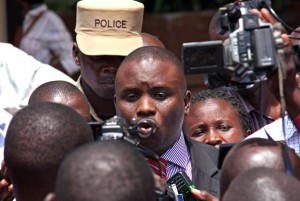 High Court Judge Yasin Nyanzi will not disqualify himself from Lukwago's case.
He has dismissed with costs, the Attorney General's application that sought to have the him as the presiding judge step aside.
In his application through Martin Mwangushya, the Attorney General asked the judge to step aside because he was likely to be biased.
Mwangusha in his application made on January 15th argues that Nyanzi issued the interim order reinstating Erias Lukwago as Lord Mayor following his impeachment.
However, in his ruling, Justice Nyanzi has said that the Attorney General gave no reasonable cause for him to step aside.
He also said that the conduct of the Attorney General since this case started is embarrassing which should have been avoided.
He says he directed the Deputy Registrar of the High Court Fred Wanida reinstate Lukwago to prevent irreparable mischief and had to protect the image of the judiciary.
Justice Nyanzi also said that for the time he has served in the judiciary and at the bar, it has been very rear for the Attorney General to make such an application.
The Attorney General's representative Martin Mwanguhsya says he is not satisfied with the decision and intends to file an appeal.
In the suit before justice Nyanzi the embattled lord mayor Erias Lukwago is challenging his removal from office.