The International Court of Justice judge Julia Sebutinde is optimistic that once politics is left out in the management of  Kampala Capital City Authority (KCCA) affairs  better service delivery can be achieved.
Judge Sebutinde says the current wrangles between the lord mayor Erias Lukwago and the city executive director Jennifer Musisi have their roots in politics.
Justice Sebutinde advises that leaders at the city authority focus on providing improved services rather than politicking.
She was this morning speaking during the fourth graduation ceremony of the International Health Sciences University where over 200 students have graduated in different fields.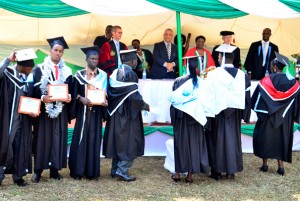 She has appealed to graduates to stick to their code of ethics and desist from being used by opportunists.