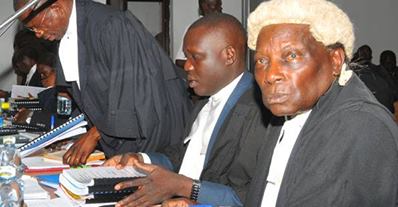 Former Supreme Court Judge George Kanyeihamba has dragged government to Court seeking recovery of his pension gratuity worth over 81million shillings.
The money is said to have accumulated the year 2009 to 2014.
Professor Kanyeihamba through his lawyers of Byamugisha, Lubega, Ochieng and company advocates is also seeking an order directing government to regularly pay his monthly pension of 2.3million shillings with immediate effect.
On August 11th 2009 professor Kanyeihamba retired as a Supreme Court Judge and he is entitled to a monthly gratuity, a chauffeur driven vehicle, body guards, medical and domestic servants all paid from the judiciary.
The case is yet to be fixed for hearing Justice Stephen Musota of the highcourt.