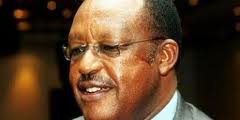 The First Deputy Prime Minister and Minister for East African Community Affairs, Eriya Kategaya is dead.
Ethics Minister Simon Lokodo has confirmed that Kategaya passed on in a hospital in Nairobi at 5.00pm today.
He was admitted at the Hospital about a month ago.
He was reportedly suffering from a condition known as Thrombosis (a blockage preventing the flow of blood in the body caused by a clot or a lump of blood).
Kategaya, 67, (born July 4, 1945) was reported to have been having treatment in and out of the country for a long period.
Mr Kategaya has shared a long relationship with President Yoweri Museveni since their primary school days at Kyamate Primary School in Ntungamo in the 1940s.
In 2003, Kategaya disagreed with his childhood friend over moves to amend the Constitution to remove term limits.
As a result, he was dropped from cabinet.
He joined some former NRM colleagues to create the Forum for Democratic Change (FDC) .
However, his relationship with the opposition did not last long as he soon after re-joined Museveni in government.