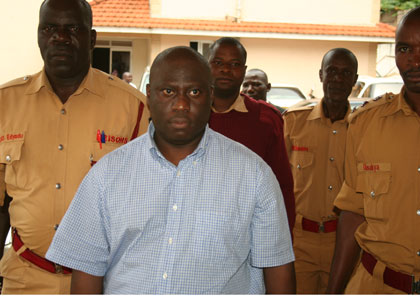 The interdicted principal accountant in the office of the Prime Minister Geoffrey Kazinda has been sentenced to five years in jail.
Anti-Corruption Court judge, David Wangututsi passed the sentence a short while ago.
For abuse of office, Kazinda was sentenced to five years; two years for forgery; two years for making documents without authority and two years for unlawful possession of government stores.
Justice Wangutusi says the sentences will run concurrently.
The judge says he has considered the time Kazinda has spent in jail since October last year.
The judge also said that he has considered several things including Kazinda's ill health, being remorseful and that he has a family with children for whom he is the sole bread winner.
Kazinda is said to have abused his office when he kept, in a private residence, computer generated letters and cash withdrawal authorization forms bearing forged signature of Pius Bigirimana, the then permanent secretary.