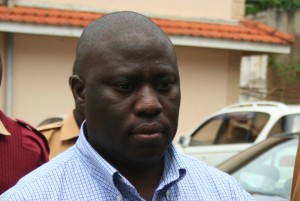 The anti-corruption division of the High Court has officially reopened today with a lineup of high profile cases for mention.
Some of the suspects who have reported today include the interdicted principal accountant in the prime minister's office Geoffrey Kazinda, Jimmy Lwamafa, the former Permanent Secretary in the Ministry of Public Service, and eight others.
The other high profile suspect is the former Local Government Permanent secretary John Kashaka. The magistrates and judge are expected to mention their cases and fix hearing date. Kazinda is appearing for hearing of his pending embezzlement cases.
Kazinda and three others are charged with 29 counts of embezzlement, forgery, causing financial loss and false accounting. They are alleged to have caused the government loss of over 316 million shillings.
Meanwhile, Lwamafa and his eight co-accused persons are charged with abuse of office, causing financial loss, embezzlement and conspiracy to defraud. Prosecution alleges that they embezzled 165billion shillings that were meant for pensioners.