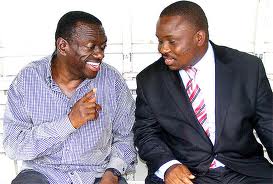 Calm had by this evening returned to the city after the police engaged in running battles with opposition politicians.
The police blocked a meeting that had been organized by opposition politicians at Mengo, to discuss Lukwago's return to office.
Meanwhile the Lord Mayor Erias Lukwago, former FDC leader DR. Kiiza Besigye and Rubaga North MP Moses Kasibante are still held up at different police stations.
Kasibante was arrested at Mengo market, Besigye was arrested from the old taxi park after he eluded the police that had been heavilly deployed at his home and along Gayaza road.
Meanwhile Lukwago was arrested as he tried to leave his home in Wakaliga.
Besigye is still held up at Naggalama police station.
According to FDC women League Leader Ingrid Turinawe, Besigye was whisked away from CPS in the afternoon shortly after he was arrested.
Meanwhile the Lord Mayor Erias Lukwago and councilor Allan Ssewanyana are held at Kira road police while Besigye's driver is held up at Jinja road.
These arrests followed foiled meeting by the opposition that was meant to discuss the return of Lukwago to office at city hall.
Lukwago was thrown out of office in November last year after he was impeached by city councilors.
However, Court issued an order blocking the impeachment.
The police have vowed to block any such meeting citing orders from the Attorney General that Lukwago is no longer recognized as the Lord Mayor.