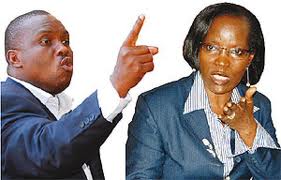 The Kampala Capital City Authority (KCCA) Executive Director has denied knowledge of any government talks with the embattled Kampala Lord Mayor Erias Lukwago.
Ms. Jennifer Musisi says she is only aware of the ongoing court process that is not yet disposed of.
Ms Musisi said while government could be negotiating with the opposition regarding matters of "governance" it fully respects the rule of law.
Ms. Musisi's statements follow reports that the opposition had pushed government to open-up for a second round of negotiations with Lukwago's wing that include key renowned city lawyers last year.
However, KCCA councilor Mr. Bruhane Byaruhanga has scoffed at government and the opposition for taking what he calls a wrong negotiation route.
While the Deputy Lord Mayor, Sulaiman Kidandala has welcomed the development but warns his boss not expect much from the talks.