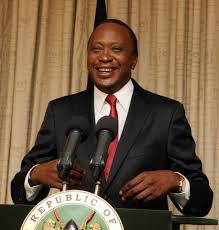 Kenya's President Uhuru Kenyatta might skip the ICC hearing to attend Uganda's independence celebrations.
He has filed a request to the Trial Chamber to be excused from attending the Status Conference scheduled for 8th October.
Through his lawyers Steven Kay QC and Gillian Higgins, Kenyatta is asking that the hearing be adjourned to a later date, when he can attend the Status Conference via video link.
In his capacity as Kenyan president and chairman of the East African heads of State, Kenyatta is due to attend the Northern Corridor Infrastructure Summit on 8th October, as well as the Uganda's 52nd independence anniversary on October 9th.
Judges at the ICC want to question him over claims that his government has withheld documents requested by prosecutors preparing his crimes against humanity trial that has already been delayed several times.
Kenyatta denies organising ethnic massacres after elections in 2007. Some 1,200 people were killed and 600,000 driven from their homes.