President Uhuru Kenyatta has asked Kenyans to "free themselves of past grievances".
Speaking shortly after he was inaugurated this afternoon for a second term in office, he has urged people of Kenya to stay within the law.
He said that however serious our grievances may be, the law must reign supreme.
As proof that he believes this, he added that when the Supreme Court of Kenya got involved in the last election "despite having won, we complied"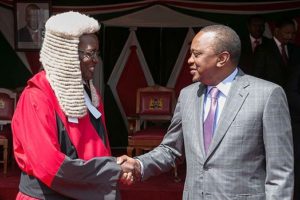 He has promised to be a president for all.
Meanwhile, the Deputy President William Ruto has asked Kenyans to "say no to hate" and instead unite as a nation.
He said this election was different because people were voting on issues, such as infrastructure and education, rather than identity.
He has called this a steady progress towards "mature politics".