Uhuru Kenyatta has been sworn in for a second term as president of Kenya at a ceremony in the capital, Nairobi, boycotted by the opposition.
The ceremony took place in a packed stadium with police driving back other Kenyatta supporters trying to get in without seats.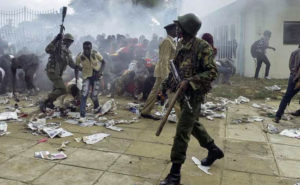 Riot police were also deployed in another part of the city to stop a rally by opposition supporters.
Opposition leader Raila Odinga mocked Mr Kenyatta's inauguration calling it a"coronation".
He boycotted the re-run of the presidential poll last month and says Mr Kenyatta was not elected legitimately.
Mr Kenyatta was officially re-elected with 98% of the vote on 26 October but just under 39% of voters turned out.
The original election on 8 August was held over again after being annulled by the Supreme Court on grounds of irregularities.
President Yoweri Museveni, Ethiopian Prime Minister Hailemariam Desalegn and Rwandan President Paul Kagame are among a number of African leaders attending.