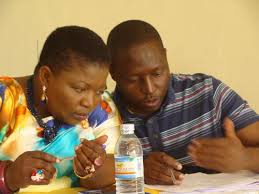 Hours after nomination for the position of NRM Secretary General, Lumumba Kasule is calling on all members to work for the good of the party.
A section of members of the ruling NRM has also welcomed the Kasule's appointment as the perfect replacement for former Premier Amama Mbbazi.
Ndorwa West MP David Bahati describes her as a hardworking person who can bring a lot of vigour and the much needed order to the party that is seemingly falling apart.
Evely Anite, the party's caucus spokesperson says the appointment will not distance historicals.
However, Lumumba's appointment has been criticized by some quarters within the top party leadership.
While for senior politician Yona Kanyomozi, the surprise change of guards is a tactical move to strengthen the party's support base in Northern and Eastern.
Lumumba who is currently the government Chief Whip will be deputized by Richard Todwong.
Also named by the Central Executive Committee meeting held at State House Entebbe last evening is the minister for Information and National Guidance Rose Namayanja for the position of National Treasurer, to be deputized by Dr. Kenneth Omona.
Dr. Tanga Odoi is nominated for position Chairman NRM Electoral Commission.
Speaking to KFM, Odoi expressed readiness to serve the party.
He says that while it is a great task, he is ready for it and promises to serve as expected.
The appointments comes after the Namboole delegates conference passed resolutions that changed the party constitution and mandated the chairman to directly appoint the party executive with approval of NEC.
The officials named to take over Party Leadership positions will be discussed for approval by the NEC on January 8, 2015.