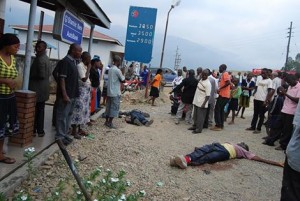 Forensic experts are set to produce a comprehensive report on the examination of the mass grave bodies.
Last week, a group of government pathologists and other medical experts from the government analytical laboratory went to Bundibugyo to examine the nine bodies that were exhumed from three separate graves.
The Police Chief Pathologist Dr. Moses Byaruhanga tells KFM that they have already sent a draft report to the inspector general of police, while more DNA tests are yet to be carried out in government laboratory.
He explains that most of the bodies were fund with massive wounds that led to the death of these victims.
Over 90 people were killed early this month when unknown people attacked the three Western districts of Ntoroko, Bundibugyo and Kasese.