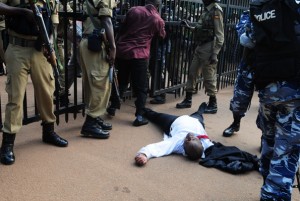 A city lawyer is among the three people said to have been injured during the city hall scuffle this morning.
Abdullah Kiwanuka was roughed up by armed police office as he tried to access the chambers where the KCCA councilors had gathered to vote on the fate of the lord mayor.
Earlier, some members of parliament from Kampala including Latif Ssebagala for Kawempe North and John Ken Lukyamuzi for Lubaga south were also rouphed up by the police and denied access to the city hall.
Meanwhile, the Police have issued a stern warning to persons bent on causing chaos in the city that they shall be dealt with decisively.
The force was in running battles with demonstrators this morning, who were protesting over the impeachment of Lord Mayor, Erias Lukwago by KCCA councilors.
There were scuffles at City Hall as Police blocked people from accessing the hall. In a statement issued this afternoon, Police Deputy Spokesman, Patrick Onyango says former FDC President, Dr. Kiiza Besigye's arrest was a preventive measure following reports that he was planning to mobilise the public to engage in acts of lawlessness. Besigye who was arrested in Kasngati is currently held at Naggalama police station.
Onyango says the police force is committed to discharging its mandate of protecting life and property. He also denied reports that Kisseka market has been closed and the situation is calm though Police deployment remains.