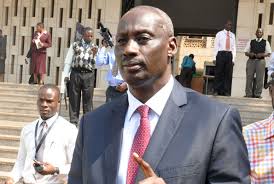 The Defense and Internal Affairs Committee of Parliament has summoned the Minister of Internal Affairs to explain the controversies surrounding the Registration of Person's Bill 2014.
The bill seeks to among other things establish an authority to handle registration which some Ugandans think is a duplication of roles.
According to the internal affairs minister Gen. Aronda Nyakairima, the bill seeks to create a focal center where all people will be registered and information shared with other government institutions like Immigration Board, Electoral Commission and Uganda Bureau of Statistics among others.
However, the chairperson of the Immigration Board Byenkya Nyakasiki says the bill is intended to create an authority whose work is already being carried out by the board.
"We were even not consulted in the bills formulation process", adds Ms Byenkya.
But the Uganda National Information Technology Authority Uganda has supported the creation of a new Authority to handle registration of persons.
Appearing before the same committee to give their views, the executive director of NITA -U Mr.James Saka said there has been a lot of duplication in collection of data by government agencies and ministries.
"This will be no more once a single authority is established to manage data for all citizens. Costs too will be reduced", Mr. Saka explains.
The chairperson of parliament's Defence and Internal Affairs Committee that's currently scrutinizing the Registration of Persons Bill Hon. Benny Namugwanya has resolved to summon Gen. Nyakairima to explain the inconsistencies.
The minister, together with officials from the Electoral Commission are expected to appear before the committee on Tuesday next week.
The ministry of Internal Affairs spokesperson Pamela Ankunda says the first meeting to harmonize the registration of persons was held as far back as 2004-way before Gen. Aronda became minister for Internal Affairs.